Dubai, Nov. 10, 2020 / — Azdan, leading NetSuite Sollution Provider and technology partner in Dubai, UAE today announced the launch of its new app for NetSuite Users.
This addition to Azdan's technology suite illustrates the company's initiative in building the most advanced distribution and delivery management experience for Delivery fleet management companies.
The shift towards e-commerce was happening even before COVID-19, but the pandemic accelerated a spike in consumer's behavior towards e-commerce. Dubai, for instance, recorded an 83% year-on-year surge in the number of e-commerce business licenses issued in the first half of 2020 as consumer demand for online shopping grew.
Azdan was quick to recognize a gap in the delivery management sector particularly for those who are dealing with online stores. There appeared to be a growing mismatch in the industry size and demand equation combined with an increased difficulty to have one unified system to connect the back end operations with delivery management operations.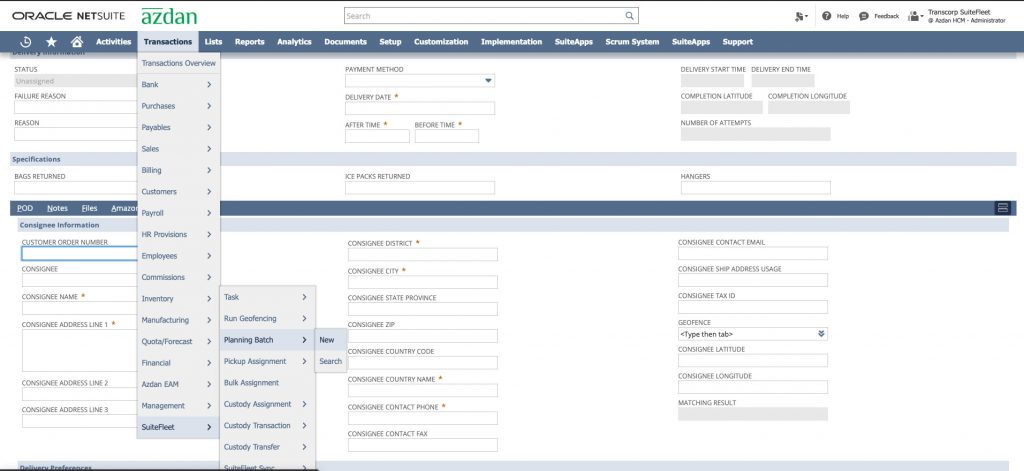 NetSuite Delivery Management Capabilities
Planning & Dispatching
Treat vehicles at multiple sites as a single, integrated transportation resource and assign pick-ups and deliveries to the best-positioned vehicle and driver .
Route Planner
The optimal route to your destinations saves a lot of time and fuel, lowering costs and emissions. You'll make faster deliveries, pickups or services, increasing productivity and customer satisfaction. Drivers will get routes that make sense.
Hub Returns Manager
When a customer decides he wants to return all or part of an order, you need to update your NetSuite system fast to keep track of successful pick-ups, failed deliveries and unplanned parcel returns.
Address Validation
An address validation (or verification) manager will programmatically check to see if an address is contained in an official address database.
NetSuite Integration
Azdan distribution and delivery management system Integrates Oracle NetSuite to improve productivity, customer service, driver safety, and vehicle maintenance while reducing overall costs.