Odoo Partners in Dubai, UAE​
The open-source development model of Odoo has allowed their clients to leverage thousands of developers and business experts to build the world's largest ecosystem of fully integrated business apps.
With a modern and elegant technical design, Odoo's framework is unique. It allows us and our community developers to provide top-notch usability that scales across all apps.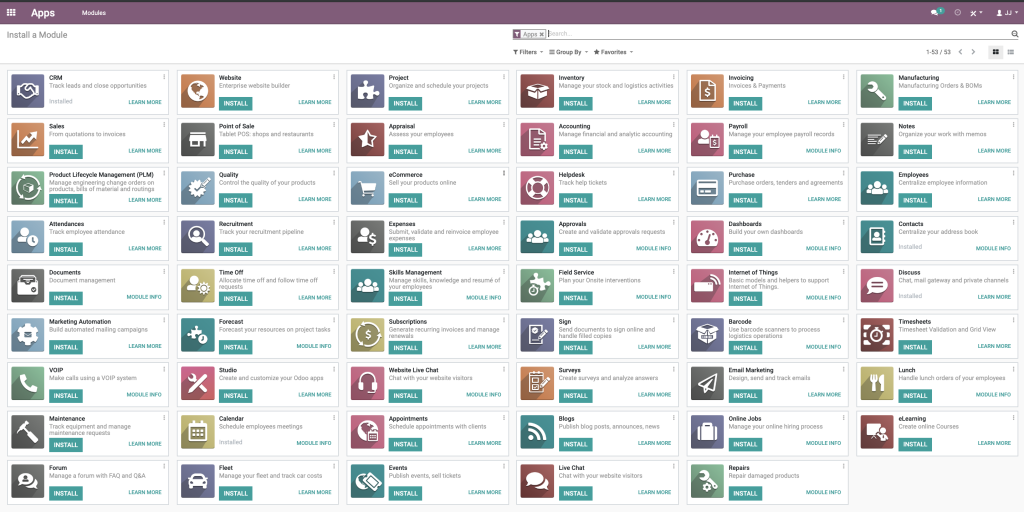 Azdan is an award-winning ERP Partner

At OAKLAND (odooERP.ae) provide SME tailored solutions that help SMEs to let the technology be at their service by making business operations much smoother and become an enabler for success and growth. Odoo is at the core of our services and we provide solutions that are localized to our UAE market conditions and requirements. We focus primarly on the retail, manufacturing and F&B industries. In addition to that we provide other IT solutions that help SMEs to cover the business scope such as VOIP, Servers, Networking, CCTV, Access Control & Cloud Computing..

Al Jawad is one of well known Odoo partners in Dubai, UAE. over 14 years of experience of delivering effective business management solutions to a broad spectrum of organisations ranging from large companies to small/medium enterprises across the MENA region. Whilst technical competency is one of our key strengths, customers are able to leverage our wealth of business experience, knowledge and expertise ensuring a fit for purpose, low risk, low cost implementation

After a great success with international companies, a team of Odoo experts launched Plennix Technologies as a digital transformation leader in the Middle East and Africa Regions. Ten years of experience were enough for us to create and classify Plennix Technologies as one of the biggest market players in IT business solutions.

Ever Business Solutions is an Odoo solution implementer with extensive expertise in the areas of Enterprise Resource Planning through the sale, implementation, and customization of all Odoo products. Through a diverse team of 300+ experts, Intalio Business Solutions has delivered projects in various industries by offering various modules.

Brainvire Infotech, Inc. is a globally-awarded digital transformation company headquartered in Dallas and spread across California, New York, Canada, UAE, Kuwait, Saudi Arabia, Singapore, and India. Brainvire's certified Odoo consultants possess expertise in retail, supply chain, manufacturing, accounting, security, infrastructure, and HIPAA, among others.

Klystron Global is a leading Technology Products and Services Company located in Dubai, United Arab Emirates with offices in Oman and India. Managed by a group of dedicated professionals who have successfully implemented technology solutions for various industry verticals in the GCC region.

Net Stream is a UAE-based company that applies international professional standards in the field of IT Solutions. Established in Dubai UAE in 2009, As an IT Solution Company providing world-class services with a team of professional and diversified candidates, Providing Software and Bussiness Solutions.

Work with a team who is having more than 22 years of ERP experience. Team is focused exclusively in Odoo and ERP and are industry experts. Bassam Infotech LLP is the right partner to get your ERP implemented.

Viltco is One stop full-service Odoo partner, specializing in implementation and support for Medium to Large scale businesses. We have been providing quality software solutions and consultancy to brands, media companies, digital agencies, telecommunication, construction, real estate, healthcare, manufacturing, wholesale, e-commerce, service sectors and enterprises.

Techbot Information Technology is one of the leading IT solution providers in the UAE having head office in Dubai. Techbot helps organizations implement the best ERP solution, ERP analysis, consultation, development, installation, IT AMC, IT support,
Get Free NetSuite Trial and Demo