SAP is one of the world's leading producers of software for the management of business processes that facilitate effective data processing and information flow across organizations. Founded in 1972, the company was initially called System Analysis Program Development. Since then, it has grown from a small, five-person endeavor to a multinational enterprise headquartered in Walldorf, Germany, with more than 105,000 employees worldwide. With the introduction of its original SAP R/2 and SAP R/3 software, SAP established the global standard for enterprise resource planning (ERP) software. 
Now, SAP uses the power of in-memory computing to process vast amounts of data. The company's integrated applications connect all parts of a business into an intelligent suite on a fully digital platform. Today, SAP has more than 230 million cloud users, more than 100 solutions covering all business functions, and the largest cloud portfolio of any provider. Today the company's legal corporate name is SAP SE — SE stands for societas Europaea, a public company registered in accordance with the European Union corporate law.
SAP software helps companies better manage complex business processes by giving employees of different departments easy access to real-time insights across the enterprise, so businesses can improve operational efficiency, raise productivity, and increase profits. ERP software includes programs for all core business areas, such as marketing, finance, and human resources (HR). 
SAP was one of the first companies to develop standard software for business solutions and continues to offer industry-leading ERP solutions. SAP began with a small group of friends who had a big idea: a vision of a digitally connected enterprise. They started the company as a private partnership then launched the first commercial product a year later. They often sat closely with customers to learn their business needs and processes. Since then, the company has grown steadily to become one of the world's largest technology companies and a global leader in business software.
Here is a Case Study for SAP partners in Egypt: El Arabi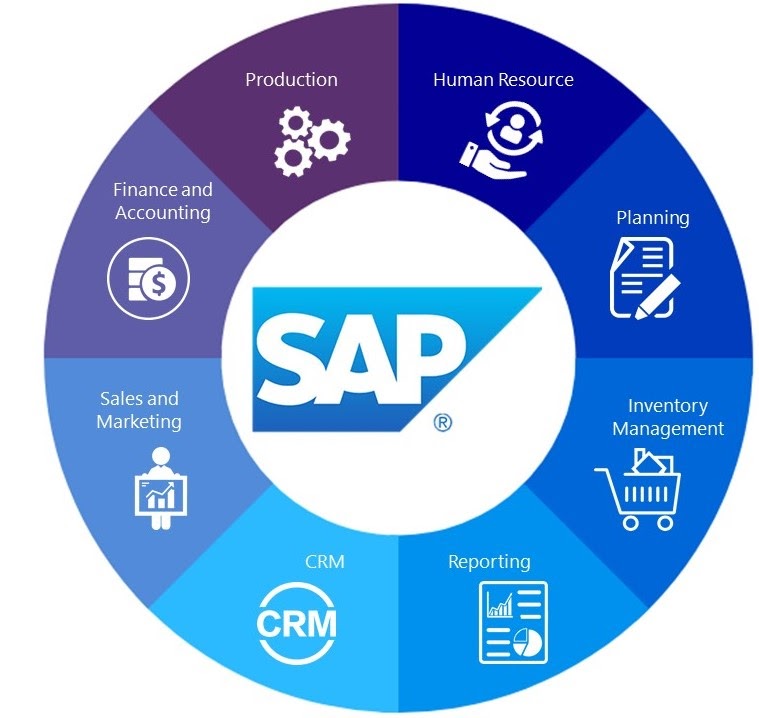 Azdan is an award-winning ERP Partner
Get Free NetSuite Trial and Demo
NetSuite is a software company that has developed a cloud-based business management platform used by more than 29,000 fast-growing organizations across the globe. That platform consists of a suite of applications that help companies run their business, understand the performance of their businesses and drive major efficiency gains and cost savings. 
The company's ERP system manages core functions, including finance and accounting, inventory, orders and procurement. Customers can add options including CRM for sales, service automation, human resources (HR), performance management and payroll to plan and track projects. Thanks to the central data source, information from across the system is accessible to authorized users across business functions. That gives leaders a 360° view of the business so they can see the progress of processes.
Today, NetSuite's cloud enterprise resource planning (ERP) system gives companies all the applications they need to run their businesses efficiently while nurturing growth. NetSuite has more than 23,000 organizations running on the same version of our true cloud, whilst SAP has only recently begun the transformation to a hosted cloud deployment with many customers not on the latest version and every upgrade requiring a consulting project. SAP is designed for organizations with less than 350 employees and above a certain number of users many SAP experts have said performance of the system starts to suffer. There is also no clear migration path to SAP's midmarket/enterprise products ByDesign or S/4 HANA.

NetSuite requires agility and flexibility, and it wants to expand internationally and adds on multiple subsidiaries. If you compare, you will see the weaknesses of SAP in comparison to NetSuite. For instance, SAP has no financial consolidation; SAP B1 requires an SAP or third-party application to consolidate accounts which can lead to expensive implementations and a lack of real time data. Also, the "Crystal Reports" was designed in the 90's for technical users, and the customizations always need to be done by the partner rather than the business user.

Sometimes SAP claims that B1 is a more complete solution to run your entire business. We would say that NetSuite provides ERP, CRM and a built-in ecommerce platform that scale with customers. NetSuite has more cloud customers than B1, and more customers that have scaled to $1 billion+.