Are you looking for the best property management software in Dubai? If so, you are in the right place! In this blog post, I will share with you my top 11 picks for the most reliable, user-friendly, and feature-rich property management software in Dubai. Whether you are a landlord, a tenant, a broker, or an investor, you will find something that suits your needs and budget.
Property management software is a tool that helps you manage your real estate portfolio, from listing properties, collecting rent, tracking expenses, generating reports, and more. Automating and streamlining your workflows can save you time, money, and hassle. Here are The Top 10 Property Management Software in Dubai.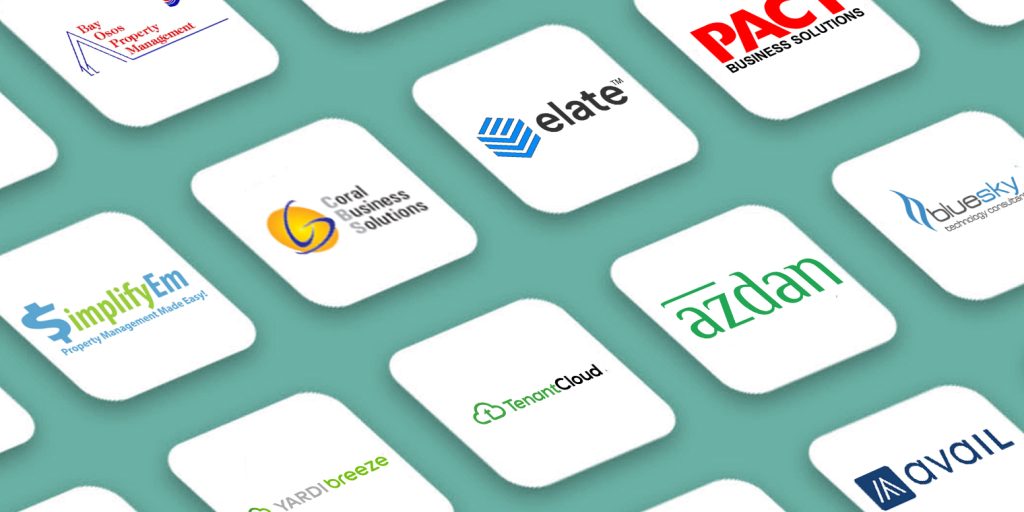 The Top 10 Property Management Software in Dubai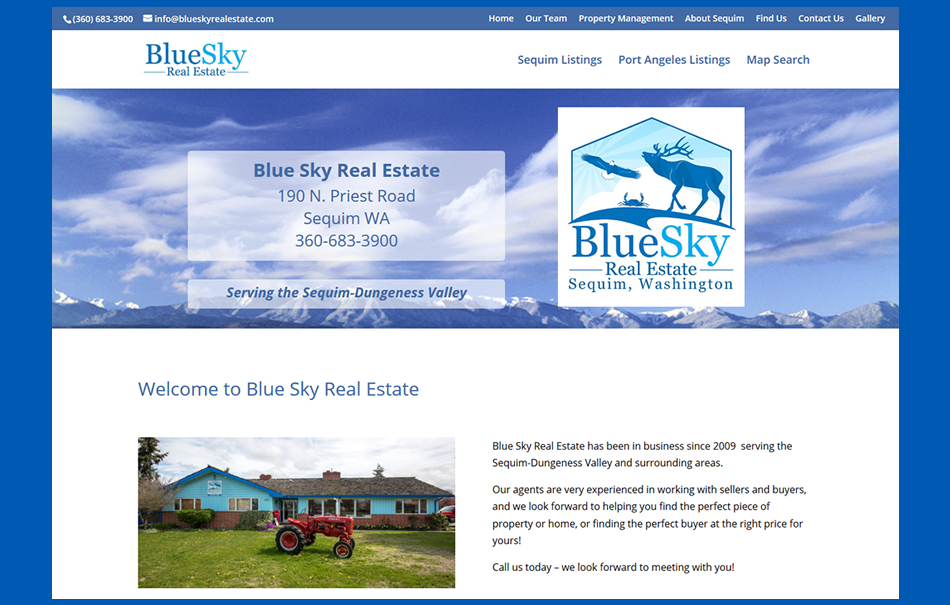 BlueSky Real Estate Software is a cloud-based real estate software that provides numerous value-added services in Dubai, United Arab Emirates. It is considered the top property management software in Dubai, UAE. The software was created to meet all the needs of property management organizations, including solutions for managing tenants, contacts, leasing, accounting, and financial data as well as reporting and analytics
Feature highlights: Intuitive interface, comprehensive lease management, robust financial tools
Bnefit-driven description: BlueSky Property Management Software offers an intuitive platform designed to simplify property management. From seamless lease management to comprehensive financial tools, this software empowers you to reimagine efficiency and excellence in your real estate operations.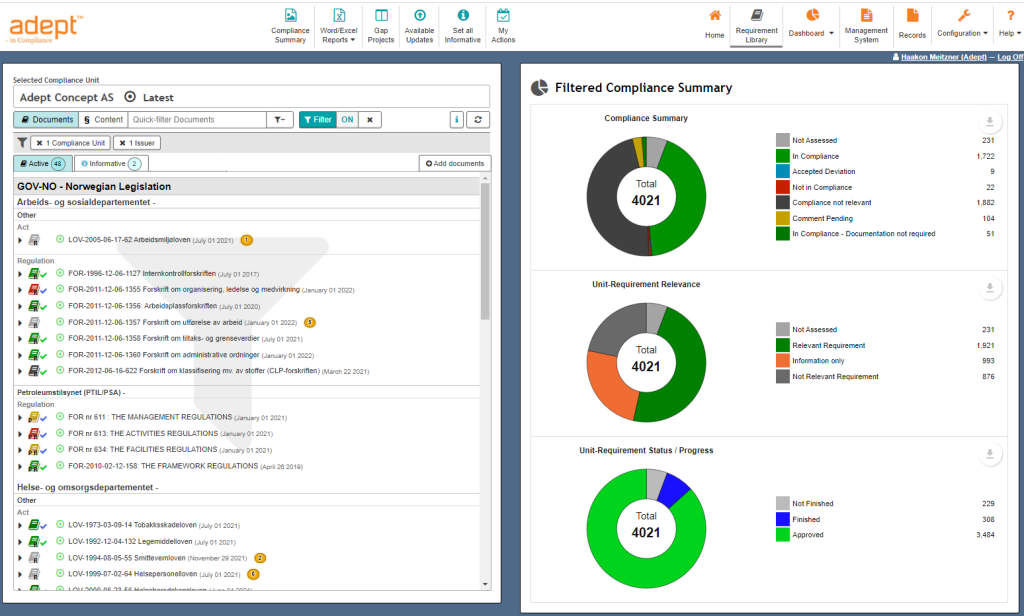 Adept Business Solutions is a fast-growing business solutions provider and from the most well-known property management software in Dubai, United Arab Emirates. They offer software packages for small and medium-sized businesses in the Middle East, including property management software called MySpacio. This web-based property management tool organizes tenant information, tenancy agreements, property information, and other real estate-related data.
Feature highlights: Integration capabilities, automated workflows, centralized data management.
Benefit-driven description: Adept Business Solutions revolutionizes property management by seamlessly integrating various systems and automating workflows. With centralized data management and streamlined processes, you can unlock the power of integration and elevate your operational efficiency.

Pact Business Solutions is one of the most well-liked programs for property management software in Dubai, subleasing, sales, brokerage, and maintenance management. It maintains both accounts and properties simultaneously. With the aid of the program, many contract kinds, such as those for leasing, sales, and the acquisition of real estate, can be automatically created and managed during the duration of the agreement. Pact assists in streamlining and also simplifying your business with useful features like consolidated information, SMS and email reminders, tenancy contracts, sales, rental quotations, and more.
Feature highlights: Tenant portals, maintenance tracking, automated communication.
Benefit-driven description: Pact Business Solutions prioritizes tenant satisfaction and effective communication. Through tenant portals, simplified maintenance tracking, and automated communication, you can enhance tenant experiences and build lasting relationships.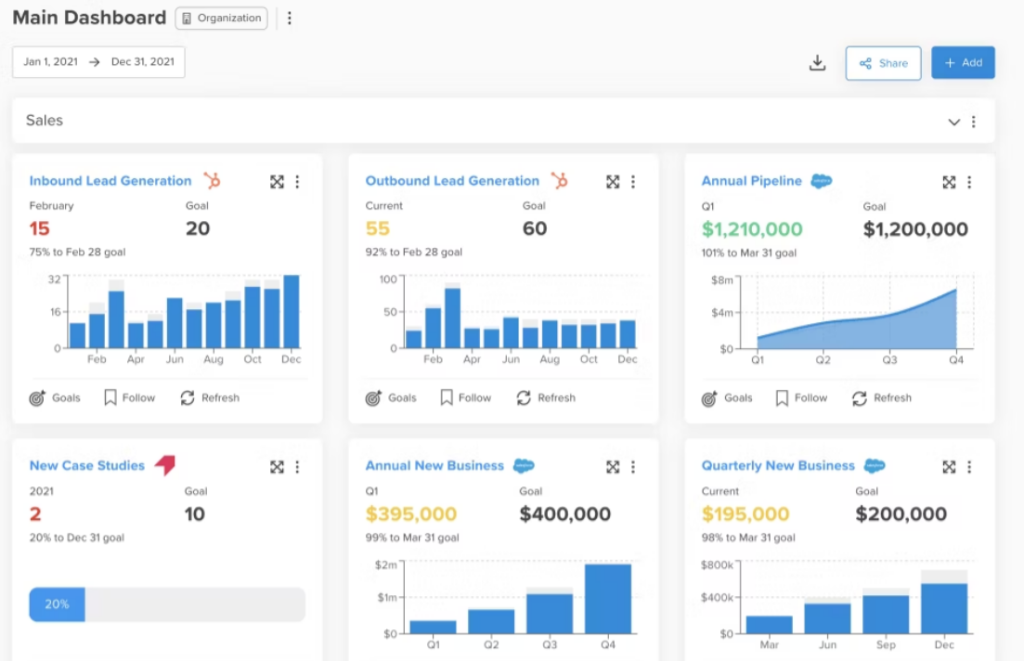 Elate Property Management Software is designed to accommodate an organization's needs for real estate operations that may be tailored to be completed from any location in the world. It is made to solve the complex real estate industry's complex problems, Property management software in Dubai includes tools for leasing property, managing finances, and managing assets in Dubai.
It is among the greatest software and has an alluring function for handling tenant complaints and also inquiries. Additionally, its unique structure that conforms to your business and efficient web tools enable businesses to go online quickly and with the least expensive model.
Feature highlights: Advanced reporting, property marketing tools, customizable workflows.
Benefit-driven description: Elate Property Management Software empowers you to embrace innovation and drive growth. With advanced reporting, powerful property marketing tools, and customizable workflows, you can make informed decisions and thrive in the competitive Dubai real estate market.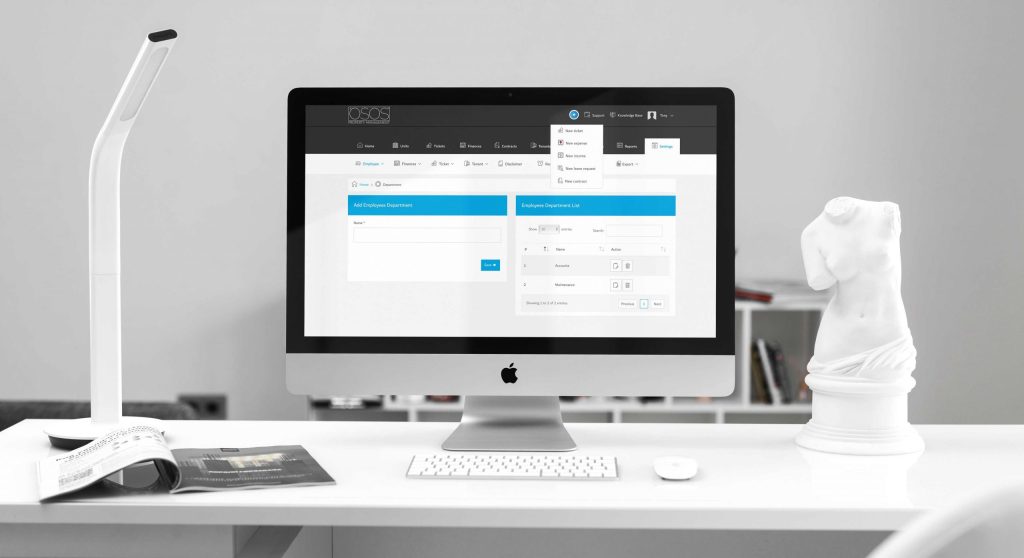 OSOS is a top-notch property management software in Dubai for private users, brokers, and also businesses. It is built with top-notch features and technology that is fully responsive and has well-integrated software. The software is offered in several packages to meet the organization's various needs. You can manage all of the money you get from rent and also spend on costs with OSOS.
You can easily connect with your tenants, stay on top of their requests and grievances, and remind them when necessary. Additionally, By using any computer or device with the cloud-based OSOS system, you can provide your employees and contractors with an easy method to reach you and ensure that they are always just a few clicks away from crucial information.
Feature highlights: Lease and tenant management, maintenance tracking, and financial reporting.
Benefit-driven description: OSOS Property Management offers an all-in-one solution to streamline your operations. From lease and tenant management to maintenance tracking and financial reporting, this software simplifies complex tasks and optimizes your efficiency.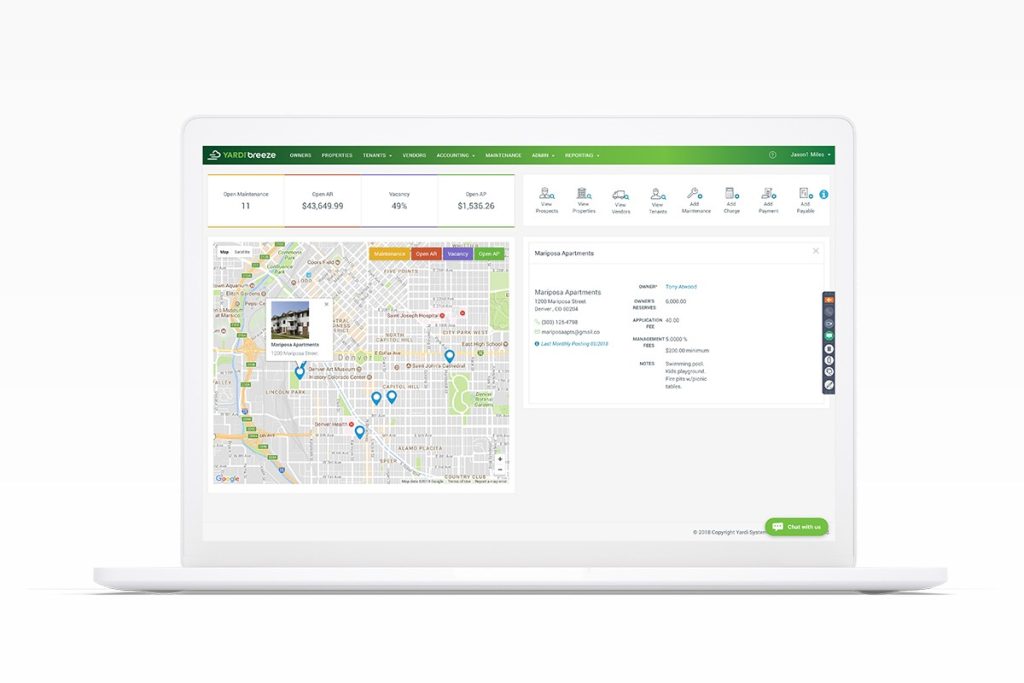 Yardi Breeze is a cloud-based property management software in Dubai that customers can manage their homes, tenants, and finances with only a few web clicks. Yardi Breeze stands out because its special function enables users to capture images immediately from a smart device and add them to a maintenance request made on an internet platform.
Previous users claim that the system is easy to comprehend, but even those who have trouble setting it up can get help from Yardi Breeze for free training and customer assistance to get their account set up and become familiar with the program.
Feature highlights: User-friendly interface, streamlined accounting, tenant screening.
Benefit-driven description: Yardi Breeze combines a user-friendly design with powerful functionalities. Enjoy streamlined accounting processes, efficient tenant screening, and a host of other features that make property management a breeze.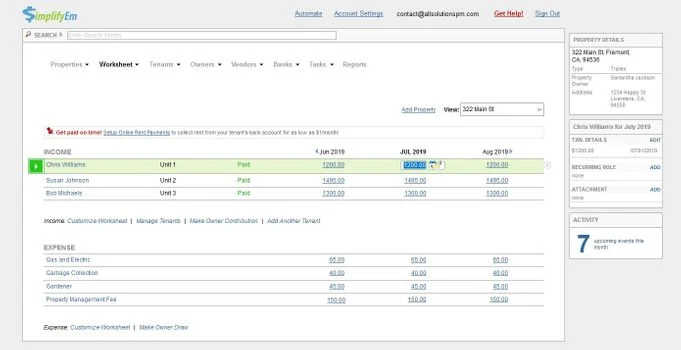 SimplifyEm is a cloud-based property management software in Dubai that helps landlords manage their rental properties quickly and easily while also saving time and money. It enables users to keep tabs on their earnings and outgoings, collect rent and also rental application information online, screen potential tenants, produce and review owner reports, keep track of maintenance requests, save documents, and automate repetitive chores.
Due to its cloud-based nature, you can start using it right away. Unlike other property management software programs, their free trial version of the software allows you to use the entire program for a short period without entering any sensitive data. SimplifyEm strikes the optimal mix between price and features. Each package includes email and phone support, expenses and income tracking, tenant and lease management reports, renters insurance, and more.
Feature highlights: Tenant and lease management, online rent collection, expense tracking.
Benefit-driven description: SimplifyEm offers a user-friendly platform to streamline your property management tasks. From tenant and lease management to online rent collection and expense tracking, this software simplifies complexities and saves you valuable time.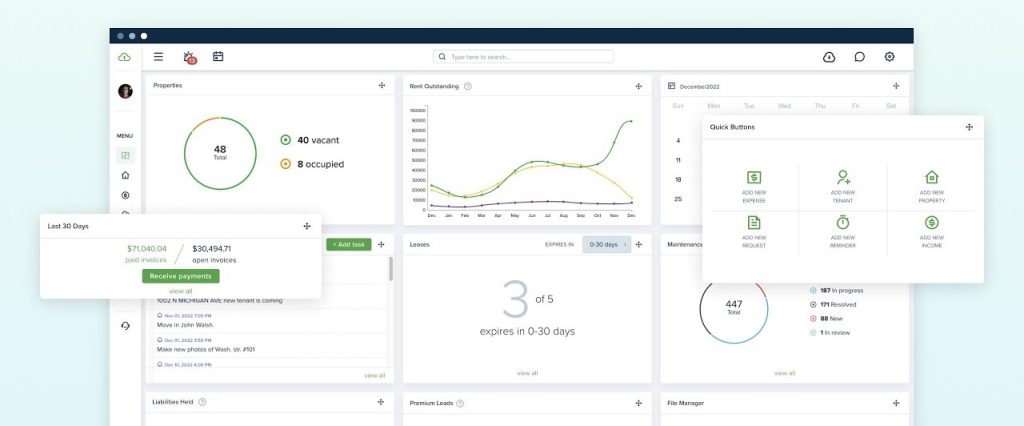 TenantCloud is a free end-to-end property management software in Dubai with all-in-one features in a free Basic Plan, which includes maintaining a record of rental information, sending and receiving rent payments, and managing maintenance. For new owners, managers, and landlords with ranging from one to 500 units under control, TenantCloud is a good fit. If you're looking for more advanced features, TenantCloud offers paid plans that include online applications, tenant screening, online lease signing, and more. TenantCloud also offers a mobile app for both iOS and Android devices.
Feature highlights: Tenant and vendor portals, maintenance coordination, document management.
Benefit-driven description: TenantCloud promotes collaboration and transparency in property management. Through tenant and vendor portals, efficient maintenance coordination, and document management, you can foster strong relationships and ensure smooth operations.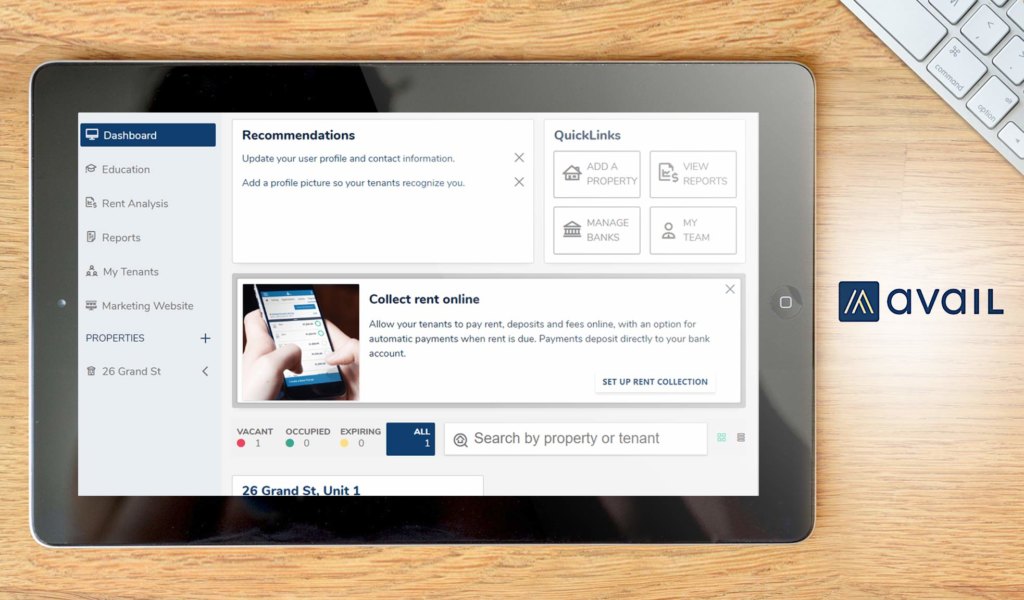 Avail provides software options for the do-it-yourself landlord. The organization provides a full suite of tools and educational materials to assist small investors in becoming competent and confident landlords. The landlord property management software in Dubai from Avail has two pricing tiers. An unlimited number of rental units are covered by a free Unlimited Plan, which also offers services for online rent payments, maintenance tracking, tenant screening, background checks, state-specific leases, and syndicate advertisements for open positions.
Feature highlights: Online rental listings, tenant screening, lease management.
Benefit-driven description: Avail specializes in optimizing rental property management. With features like online rental listings, tenant screening, and lease management, this software streamlines your rental operations and helps you find the right tenants quickly.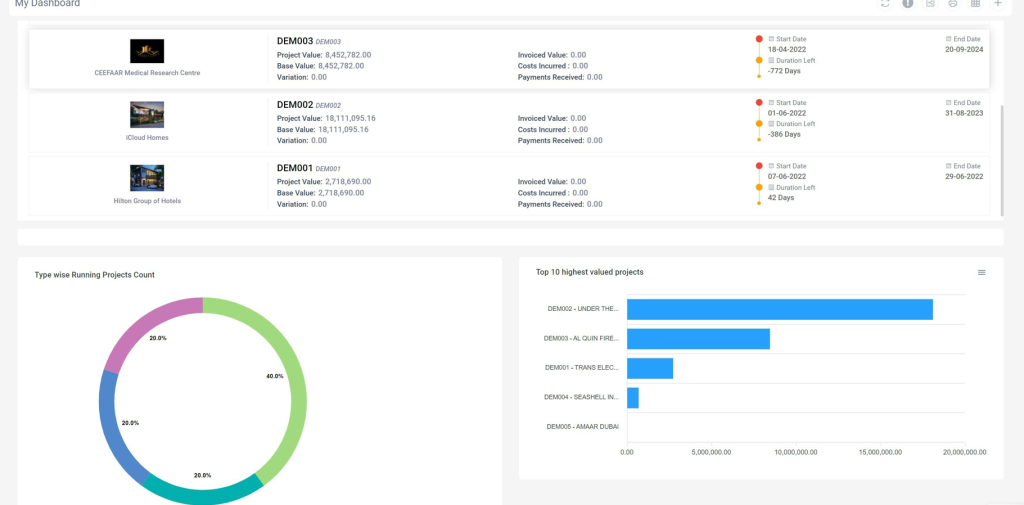 Coral Business Solutions offers one of the top ERP solutions for real estate management in the UAE, with more than 16 years of experience in ERP solutions. The Real Estate ERP can easily foresee market trends and aid in organizing and optimizing real estate operations thanks to its integration with other business resources and intelligent business insights. Real estate enterprise resource planning (ERP) software has features that all contribute to the process of delivering a streamlined enterprise solution for an effortless user experience. Coral Business is considered from the most well-known property management software in Dubai.
Feature highlights: Property accounting, maintenance management, customizable reporting.
Benefit-driven description: Coral Business Solutions equips you with comprehensive tools to scale and succeed in property management. From efficient property accounting to streamlined maintenance management and customizable reporting, this software supports your growth journey.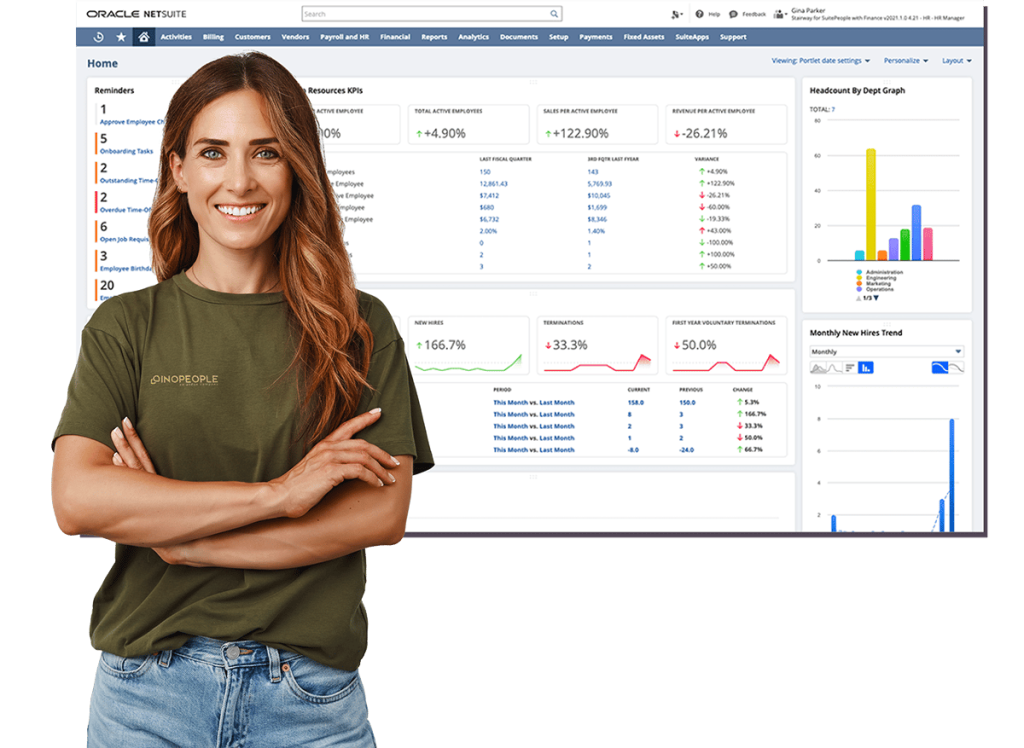 Azdan ERP is an Oracle Netsuite partner and a versatile cloud-based software solution that serves as an excellent property management software in Dubai. With its array of features, it enables seamless lease management, efficient maintenance tracking, and effective financial management.
Additionally, Azdan ERP offers a tenant portal, empowering tenants to conveniently pay rent online, submit maintenance requests, and access lease agreements. This software is specifically designed to streamline operations and enhance efficiency for real estate businesses, allowing them to optimize their property management processes and drive growth.
Feature Highlights:
Lease Management: Simplify lease administration and tracking for multiple properties, ensuring accuracy and timely renewals.
Maintenance Management: Efficiently manage maintenance tasks, track progress, and ensure timely resolution, enhancing tenant satisfaction.
Benefit-Driven Description:
1. Eliminates the hassle of manual administration
2. Enables accurate tracking and timely renewals.
3. Promptly address maintenance issues, enhancing tenant satisfaction and minimizing disruption.
Average Pricing
Property management software in Dubai prices vary widely, from free to $5 per unit per month. Small businesses typically pay between $10 and $250 per month for property management software.
Conclusion
As a real estate professional in Dubai, embracing property management software is the key to unlocking efficiency, tenant satisfaction, and business growth. With the top 10 property management software in Dubai options mentioned above, you have access to a suite of motivational and professional tools.
Seamlessly streamline operations, enhance communication, optimize financial management, and thrive in the dynamic Dubai real estate market. Embrace these innovative solutions and propel your property management endeavors toward unparalleled success. For more information about Property Management Software in Dubai, contact us today.